HOW WE HELP
Using the person-centred care approach, we offer a wide range of  preventive, curative and rehabilitative eye care services that help patients see better, use their eyes comfortably, prevent/manage eye problems better and preserve their eyesight. Learn more about our services below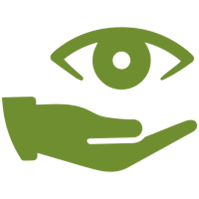 EYE EXAMINATION
We offer comprehensive eye examination comprising of a battery of eye tests aimed at assessing the visual function of the eyes and detecting any risks or abnormalities that may require monitoring or treatment. We also provide specialized assessments for dry eye syndrome and glaucoma.
TREATMENT AND MANAGEMENT OF EYE CONDITIONS
Based on the outcome of an eye examination, vision assessment, and related considerations, we recommend the most appropriate care for patients. Options include eyeglasses, contact lenses, eye drops, and other medications, vision therapy, minor procedures, counselling, and referral to other health care providers.
EYEWEAR DISPENSING
We care about how well our patients see and look in their eyewear. So, we provide a broad range of eyeglasses, contact lenses, and other optical aids/devices. We stock good quality, stylish, and sturdy frames to suit different tastes. We provide different types of eyeglass lens materials and coatings to meet patients' needs. We help patients choose the most suitable ones and ensure they are fitted properly. We also provide eyewear accessories.
EYE SAFETY CONSULTING
We provide workplace eye safety consulting services including occupational vision assessment and correction, hazard assessments, advisory services, eye safety policy development, training, dispensing, and fitting of protective eyewear. Our clients are assured of good vision safety, clarity, comfort, and performance as they discharge their duties at work.
PATIENT EMPOWERMENT
Ensuring that patients have the knowledge, skills, and tools to care for their eyes is at the heart of what we do. From eye health and safety education to self-management skill support to the supply of your eye care products, we ensure that patients have all they need to make the right eye health decisions and manage their eye conditions well.