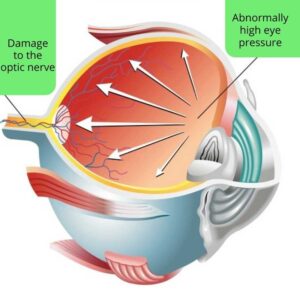 Glaucoma is a group of eye diseases that progressively damage the optic nerve, the part of the eye that transmits visual information from the retina to the brain for interpretation. It is a common eye condition that can lead to vision loss if not detected early and treated properly.
Most people who have glaucoma do not experience symptoms. So, they are usually not aware that they have the disease until they begin to lose their vision. Loss of vision in glaucoma starts from the sides where it is often not obvious. It eventually gets to the centre of one's vision if it is not treated. Hence, glaucoma is often referred to as the 'Silent Thief of Sight'.
While glaucoma is treatable, it is currently not curable. Available treatments help prevent the disease from getting worse but they do not cure it. Therefore, any optic nerve damage and vision loss that occurs before starting treatment cannot be recovered.
This is why checking your eyes regularly (every one or two years) is important, particularly if you are at a high risk of developing the disease.
Learn about the types, causes and symptoms, risk factors, diagnosis and treatment below.